The Executive Committee, in partnership with the National Panhellenic Conference (NPC) professional staff, provides operational leadership to support conference activity. The Executive Committee is dedicated to carrying out NPC's vision, mission and values.

Click a committee member for more information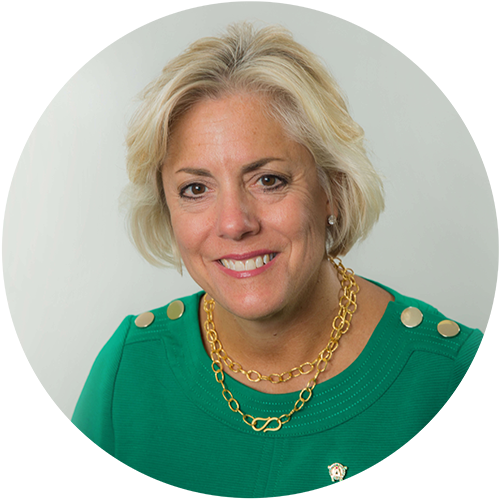 Carole Jones
Chairman
Carole Jones comes into the NPC chairmanship as the fourth member of Alpha Omicron Pi Fraternity to hold the position in rotation. As Chairman, she directs the mission and vision of NPC and represents the organization at various conferences and meetings to advocate for the sorority experience. She began her service in NPC when she was appointed as delegate for Alpha Omicron Pi Fraternity in 2003. Carole has served as area advisor, chairman of the University Document Review Committee, chairman of the Extension Committee and has led several task forces.
Her service to the Greek community began when she pledged Alpha Omicron Pi at the University of Alabama where she served as chapter president. Upon graduation, Carole immediately became engaged on the local level with the AOII Huntsville Alumnae Chapter and later became an AOII international volunteer. She served as regional director, regional rush officer, international rush chairman, executive board director of programming and international president.
By working alongside sorority women, Carole encourages them to lead the way for collaboration and work together on ways to tell their sorority stories. Serving NPC is her way of helping to ensure that the fraternal experience is preserved for future generations.
Professionally, she worked for the Huntsville News as lifestyle editor, social editor and food editor. Carole is also a community volunteer in Huntsville, Ala., having served in leadership roles on various non-profit boards. Carole and her husband, Buddy, a member of Kappa Alpha Order, have an AOII daughter, Laura, and son-in-law, Tommy.
Malaea Nelms Seleski will join the NPC Executive Committee in the role of Vice Chairman as the third member of Zeta Tau Alpha Fraternity to hold this position in rotation. The Vice Chairman's responsibilities are to provide continuity of leadership in the absence of the chairman and to serve in Conference liaison roles to support the chairman and in preparation for the chairmanship.
Malaea began her service to the National Panhellenic Conference in 2000 as ZTA's delegate and served for 10 years. She has been an Alternate Delegate from 2010 to the present. Throughout her time in the Conference, Malaea has been Area Advisor Coordinator-Southeast; New College Panhellenics Coordinator; Academic Committee Chairman; Educational Development Committee Chairman; and a member of the Judicial Appeals, Budget and Finance Committee, as well as other special committees. She also volunteers as a Senior Release Figures Method Specialist.
Service to others is Malaea's passion. She began that service at The University of North Alabama where she pledged ZTA and held the offices of Social Chairman, Ritual Chairman and Vice President of Programming. Her service to ZTA chapters continued in the alumnae world as General Advisor to the UNA Chapter and as an alumnae chapter officer. Nationally, Malaea has volunteered for ZTA as Province President in Alabama and Mississippi, Province President in Florida, Mentor and a member of the National Music Committee.
Professionally, Malaea is a corporate trainer for Boehringer Ingelhiem Pharmaceuticals in the area of healthcare marketplace and account management. She also has volunteered with the Junior Leagues of Miami and Fort Lauderdale. Malaea lives in Lighthouse Point, Florida, with her husband, Dave, and their two Papillion puppies, Helga and Fling.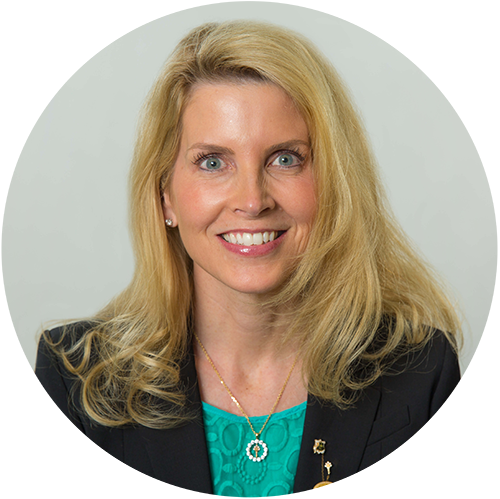 Malaea Nelms Seleski
Vice Chairman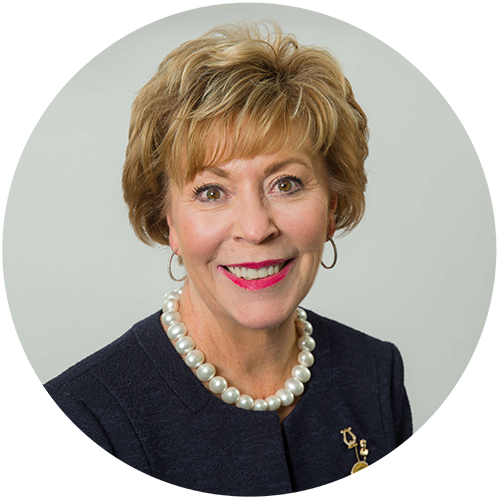 Donna Chereck
Advocacy Chairman
Donna Chereck serves the National Panhellenic Conference as the Advocacy Chairman.   While advocacy encompasses almost all of the day to day work of NPC,  Donna's work focuses on ensuring that the committees that fall under the advocacy umbrella work harmoniously in active cause to support and advance NPC's mission of advocating for the sorority experience both internally (the NPC family) and with our external stakeholders and valued partners.   In 1998 Alpha Chi Omega tapped Donna to serve on their NPC delegation; she has been a committed volunteer to the conference since that time currently as the Delegate for Alpha Chi.  Donna has served as an area advisor for both alumnae and collegiate panhellenics, as a member of the University Document Review Committee, Awards Committee and chairman of the Board Development Committee prior to becoming a member of the Executive Committee.  Her passions are board governance and working with government relations efforts related to federal legislative developments that impact the single sex sorority experience.
Donna is a native Texan.  She has lived in Dallas most of her life except during her undergraduate years at The University of Texas in Austin.  At UT Donna pledged Alpha Chi Omega and credits her experience as an active member and president of her chapter with shaping the woman she is today.  Donna worked professionally as an admissions officer for UT and as a junior high school teacher of history and speech communication.   She has remained a loyal Alpha Chi Omega alumnae and volunteer throughout her life having the honor of serving locally as an advisor for collegiate chapters and as a member of the Dallas Alumnae Panhellenic Association.  Her national volunteer service has been on the organization's National Council as a National Vice President and National President as well as serving as a member of the Foundation's Board of Trustees where she spearheaded a 10.5 million dollar campaign.  Donna believes strongly that sorority membership should be transformational and that any young woman who pledges a sorority and completes their undergraduate membership years will be an improved version of themselves as they begin their adult life.
Donna's greatest pleasure is her family.  She has been married to her husband, Bob for 47 years.  They have 3 adult children – Amanda, Andrew and Adam who are all graduates of UT Austin and members of fraternal organizations.  All 3 are married with children – Donna's 6 grandchildren – who are the lights of her life!  As a community volunteer, Donna spends volunteer time with the Genesis Women's Shelter in Dallas which dovetails perfectly with Alpha Chi Omega's philanthropy centered on supporting victims of domestic violence.   Donna and Bob travel as often as they can to visit their family and experience new adventures throughout the world.
Sandy Burba began her Greek membership when she joined Gamma Phi Beta at Miami University in Oxford, Ohio. She currently serves as the Finance chairman on the National Panhellenic Conference Executive Committee.  As the Finance chairman, she works with the executive director, NPC's accountant, NPC's investment company and the Finance Committee. Together they prepare the annual budget and review the financials each month. They also work to plan for the future and maintain the financial integrity of NPC.   
After graduation she continued to be involved at the local level in the Gamma Phi Beta Cleveland Alumnae chapter serving as president and as president of the Cleveland Alumnae Panhellenic Association.  Her volunteer experience has spanned more than 35 years, including service on international Council as Alumnae Vice President, as a Foundation Trustee, a regional director and various other local and international volunteer roles.
Sandy has served on Gamma Phi Beta's delegation since 2008 and became the delegate in 2012.  During her service to NPC her responsibilities have included serving on the Board of Directors, area coordinator for alumnae Panhellenics, Awards Committee Chairman, an area advisor, Mid-America North area advisor coordinator, a member of the Finance Committee, chairman of the Financial Transparency Task Force and a RFM specialist.
Through the years, Sandy has been a community volunteer in various non-profit organizations in the Cleveland, Ohio area.  She and her husband Chris are the proud parents of a son, Michael, and daughters Virginia (an Alpha Omicron Pi) and  Gwendolyn (a Phi Mu).  They also enjoy spending time with their grandchildren Madeline and Greyson.  She currently resides in Marblehead, Ohio, where she is an active volunteer in her church.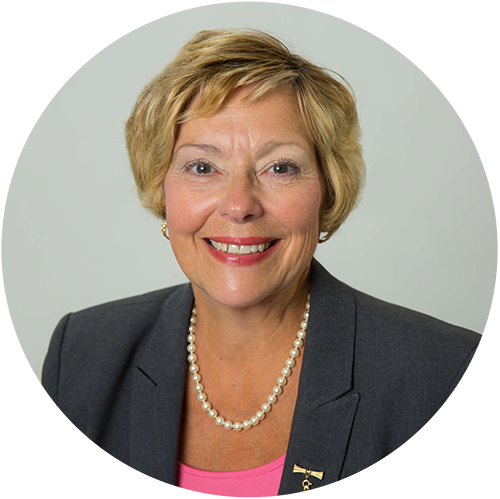 Sandy Burba
Finance Chairman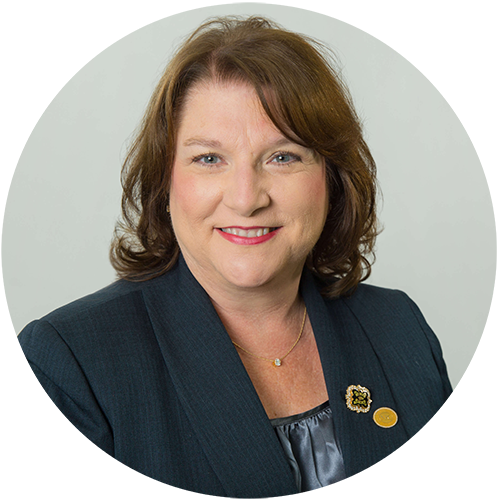 Frances Mitchelson
Panhellenics Chairman
Frances Mitchelson has over 30 years of experience working with sororities and their interfraternal partners.  She currently serves as the Panhellenics chairman on the National Panhellenic Conference Executive Committee.  As Panhellenics chairman, she works with a team of volunteers to oversee Alumnae and College Panhellenics across the country.  Frances works directly with NPC committees including, Extension, Recruitment, RFM, Judicial Appeals and New College Panhellenics.
Frances grew up in Louisiana and attended the University of Louisiana – Monroe, where her sorority journey began when she pledged Phi Mu.  Following college graduation, she worked for Phi Mu as a Chapter Consultant. Frances then served as fraternity/sorority advisor at the University of Idaho, where she also completed her master's degree in counseling and human services with emphasis on college student services.  Next, she became the director of student life at Pittsburg State University in Kansas.  Alongside her professional work in higher education, she continued to volunteer for Phi Mu and served as national president, public relations director, sesquicentennial chairman, academic excellence, foundation trustee, among other volunteer positions.  Most recently, she serves as a member of Phi Mu's NPC delegation.
Her work in NPC has included serving as area advisor, university document review committee chairman and area advisor coordinator for mid-America South.  Frances is a presenter at regional and national fraternity/sorority conferences and facilitates leadership institutes for college students.  She gains energy and joy from working with sorority women.  Frances wants to inspire them to be their personal best and empower them to find their passion, which for her is sorority work. She wants any sorority experience to make women better than they used to be and this is why she volunteers for NPC to fulfill of vision of advancing sorority together.
Frances' other passion is for her family and community in which she lives.  She is married to Kevin and they have one son, William.  Both are members of Phi Gamma Delta.  Frances is a civic and philanthropic leader in Pittsburg, Kansas, serving on numerous charitable boards. She loves to travel and read for pleasure when she has time but does a lot of both for her volunteer work!